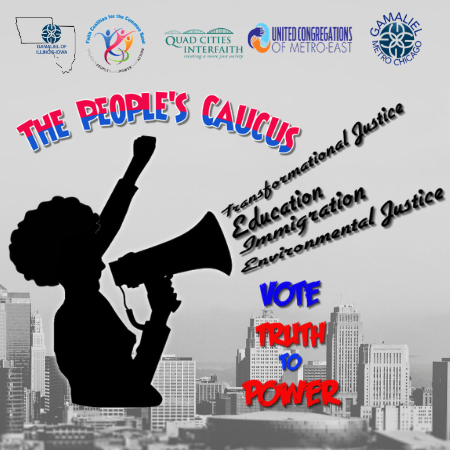 The Faith Coalition for the Common Good organized a Bus to the The People's Caucus in Davenport, Iowa on January 12, 2020.
Davenport forum puts full spectrum of 2020 candidates on stage
By Graham Ambrose, published January 12, 2020
DAVENPORT — A democratic socialist, a Republican and an ex-CEO walked into an Iowa auditorium Sunday.
That's not the setup to a joke, but the premise of a presidential forum held in Davenport three weeks before the Iowa caucuses.
At the three-hour People's Caucus forum, activists from a coalition of social justice groups asked questions of three presidential candidates — Independent Vermont Sen. Bernie Sanders, who's running as a Democrat; former U.S. Rep. John Delaney of Maryland; and Republican former U.S. Rep. Joe Walsh of Illinois — whose campaigns are as different from one another as any in the 2020 race...
The forum was sponsored by Quad Cities Interfaith; Gamaliel of Illinois-Iowa, a group committed to uniting people of diverse faiths and races; and the Lane Evans Legacy Project. It was held at Davenport North High School and drew a crowd of more than 500 from across Illinois, Iowa and Missouri.
Candidates delivered brief introductions then took questions from advocates, who were mostly not Iowans or Quad-Citians but from Chicagoland and metro St. Louis.
---
Information about The People's Caucus
*Update January 7, 2020: The organizers of The People's Caucus have decided to change the start time to an earlier time in order to accommodate travel schedules and debate prep plans of candidates.  The new start time is 11:30 a.m.  The bus will leave Springfield at 7:30 a.m. from the JC Penney parking lot.
"The People's Caucus" is designed to provide directly impacted people who work year-round at the grassroots level the opportunity to bring their issues directly to presidential candidates and allow average citizens to hear the candidates' views on the issues that impact their lives.
The format for the event will be similar to a candidates' forum.
WHAT: A presidential candidate forum in Davenport Iowa, with over 1000 people representing faith-based organizations, working families and veterans from Eastern Iowa and others who will be traveling from across Iowa, Illinois and Wisconsin.
A unique opportunity to hear from and interact with the 2020 presidential candidates only three weeks before the Iowa caucus.
More about the Caucus on Eventbrite.com...
Read the People's Caucus Open Letter to Candidates... (PDF)
Download the flyer... (PDF)
FORMAT: Candidates will appear one at a time for 30-35 minutes. Each candidate will provide 3-4 minute opening remarks, followed by a response to a question or questions from citizen participants and a follow up question from the moderator(s).
WHO: All declared candidates for President are invited.
WHEN: Sunday January 12, 2020, 11:30 am – 5:30 pm
WHERE: Davenport North High School, 626 W. 53rd Street, Davenport
SPONSORS: Quad Cities Interfaith, a large faith-based coalition working for more than 30 years to ensure equal opportunity and justice for all and to unite people of diverse faiths and races; Gemalial of Iowa and Illinois, working to empower ordinary people to effectively participate in the environmental, social and economic decisions that affect their lives; and The Lane Evans Legacy Project, working to inspire a renewed commitment to values-based political leadership that appeals to people across the political divide.
* This event is non-partisan. All presidential candidates have been invited