We The People 2020 Candidates Forum
in East St. Louis, IL on March 8, 2020.
The forum was designed to provide candidates the opportunity to engage with ordinary people who are doing extraordinary work in their communities and allow average citizens to hear the candidates views on issues that impact their lives.
WHEN: Sunday, March 8, 2020, 3:30 PM – 6:00 PM
WHERE: Macedonia Baptist Church of East Saint Louis, 1400 East Broadway, East St. Louis, IL 62201
Go to Facebook.com for photos and a Full Recap of the Forum...
Watch Amber Alexander, FCCG Education Taskforce Chairperson, speak on Restorative Justice in Education...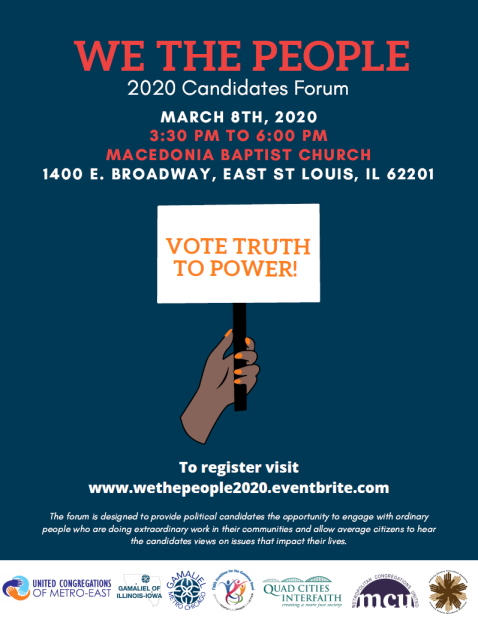 More information at Eventbrite.com...
The Faith Coalition for the Common Good took a chartered bus to the event.
The cost of the bus was $20/person and registration and payment was required in advance. The $20 registration for the bus is nonrefundable.
Checks can be mailed to FCCG, 2208 E Kansas St, Springfield, IL 62703.
Bus Schedule:
12:15 p.m. - People should arrive by this time to board the bus.
12:45 p.m. - Load bus at J.C. Penny's Parking lot, 1201 S. Dirksen, Springfield, IL
1:15 p.m. - Depart for East St. Louis
3:00-3:15 p.m. - Arrive, Macedonia Baptist Church, 1400 E. Broadway, East St. Louis, IL
3:30-6:00 p.m. - We the People Candidate's Forum
6:15 p.m.- Load bus
6:30 p.m. - Depart for Springfield (stop at a fast food restaurant on the way back - eat on bus)
8:15-8:30 p.m. - Arrive J.C. Penney Parking lot
SPONSORS:
United Congregations of Metro-East
Metropolitan Congregations United
Gamaliel of Metro Chicago
Gamaliel of Illinois and Iowa GOII
Quad Cities Interfaith
Faith Coalition for the Common Good
Johnson County Interfaith Coalition