10th Anniversary Breakfast Fundraiser for Faith Coalition for the Common Good
Thursday, March 21, 2019 7:00 am - 8:30 am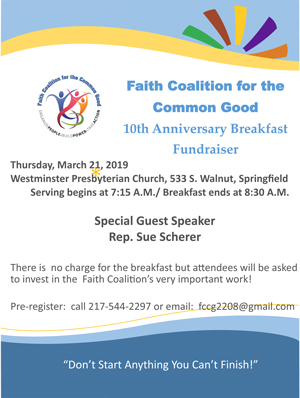 Location:
Westminster Presbyterian Church, 533 S. Walnut, Springfield, IL, 62704
Description:
Special Guest Speaker: Rep. Sue Scherer

Schedule:

Serving begins at 7:15am.


Breakfast ends at 8:30am.




There is no charge for the breakfast, but attendees will be asked to invest in the Faith Coalition's very important work!

Pre-register: call 217-544-2297 or email fccg2208@gmail.com.