National Call-In Day for Immigration Reform April 10, 2013 Please call the following legislators: Congressman Aaron Schock – 202-225-6201 and 309-671-7027 Congressman Rodney Davis – 202-225-2371 and 217-791-6224 Senator Mark Kirk – 202-224-2854 and 2
Posted on 04/09/2013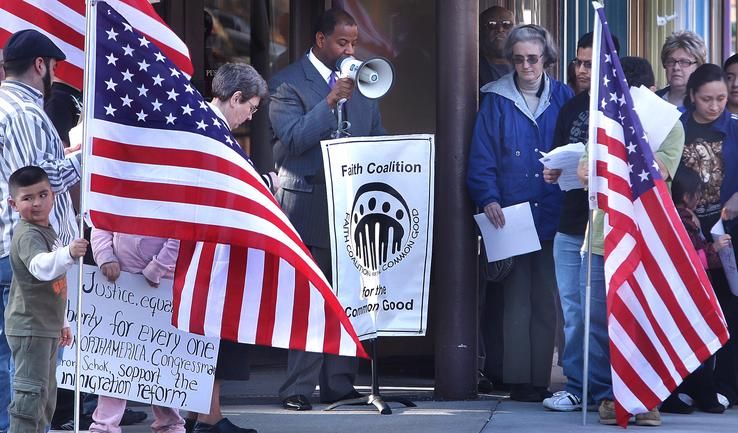 A group of people calling for immigration reform held a prayer vigil outside U.S. Rep. Aaron Schock's downtown Springfield office Thursday.
The vigil was organized by Faith Coalition for the Common Good, an organization of 22 faith-based, nonprofit and union labor organizations in the Springfield and Beardstown areas. About 40 people, some carrying signs reading 'Keep Families Together,' attended.
T. Ray McJunkins, senior pastor at Union Baptist Church, 1405 E. Monroe St., and president of the Faith Coalition, said the country's current immigration policy is tearing families apart.
"The way it is now, the parents who are undocumented can be sent back, but the children who are born here are citizens. They are ripping apart the families," McJunkins said. "We are trying to urge congressmen to sign bills that will keep the families together."
Sister Mary Jean Traeger of St. Katharine Drexel Parish, 1700 S. 12th St., has also seen how the existing system affects families.
Read Full Story here: http://www.sj-r.com/breaking/x609797776/Group-wants-family-to-be-focus-of-immigration-reform?img=2