The vision of the Faith Coalition is racial and economic justice for all across central Illinois. Every justice issue we address has at it's root some form of racism.
News and Initiatives
---
Police Community Review Board
Faith Coalition, Black Lives Matter (BLM), and Education & Action Together (EAT) are working together to strengthen the effectiveness of the Police Community Review Commission. They hosted a Zoom forum with Mayor Langfelder and Chief Winslow and had a subsequent meeting with them.
One of the asks was to name people from the community, who are not affiliated with law enforcement, to be appointed to the Commission. The Mayor said there are two openings on the Commission right now. He has requested and received a suggested nominee from BLM. He would be receptive if FCCG would suggest an individual.
If you would like to participate in the Police Review Commission action contact Roy Williams at roytheboss1@yahoo.com. (updated October 2020)
Transformative Justice: No Money Bail Bonds
One of the task force's issues is pretrial justice. Pretrial justice deals with many subjects, FCCG is focusing on ending money bonds in particular, due to the number of people incarcerated because they are unable to pay expensive money bail bonds. Individuals who cannot make bail may be imprisoned for months or years until their trial. The inability to post bail can result in defendants accepting a plea bargain, not because they are guilty, but because they are needed at home or will lose their job. These injustices have no place in our society today and the FCCG stands for the fight to End Money Bond.
On Friday, September 25, FCCG, the Illinois Network for Pretrial Justice, and the Coalition to End Money Bond took to the streets of Springfield with signs and banners to demand State representatives and senators pass the Pretrial Fairness Act. The Act would end money bond and make Illinois pretrial justice system fairer. FCCG volunteers made connections with citizens who found the topic interesting and even a restaurant owner who wanted to be educated on a scarcely known injustice. (updated October 2020)
Efforts To Rebuild After Springfield's 1908 Race Riot Still Ongoing
By Rachel Otwell, August 22, 2018
"It's been 110 years since the 1908 Race Riot erupted in Springfield. The violence and its aftermath inspired the founding of the NAACP, the prominent civil rights organization. A number of groups in the city recognized and remembered the violence and lives lost in a series of public events earlier this month. There are also plans to ensure more recognition in the future of a violent period many residents say deserves more attention.Also look for photos on their FB page to illustrate the stories below. A photo or map of the dig site would be great....
"Four years ago, archaeologists set out to see if any remains from the 1908 blaze were under a parking lot that would be affected by construction on a nearby railroad. Brick foundations were found, some from multi-story residences, as were artifacts that paint a picture of what was lost by those who fled—pieces of dishware, a toilet, clothing, and a cross....
"Leroy Jordan and others, including the advocacy group he is with called Faith Coalition for the Common Good, have called for the consecration of those building remains since they were first found."
Read the full story at NPRIllinois.org...
---
1908 Race Riot Archaeological Dig Site
FCCG leaders have been very involved in the Section 106 process and FCCG is one of the "consulting parties" identified by the Federal Rail Administration regarding the rail archaeological dig site for the 1908 race riots on Madison and 10th street.  It has been a very long process (3 or more years) and our leaders attended meetings, met with the FRA in Washington DC and also our local elected officials.
The Faith Coalition's position was to keep the site preserved in place since it was deemed eligible for the National Historic Registry.  However, the powers that be decided that removing archaeological items would be the best form of mitigation.  The historical significance of the site will be lost once items are removed.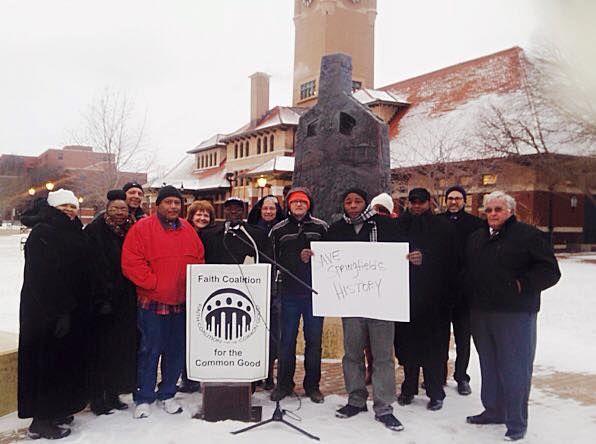 ---
Sacred Conversations on Race (+ Action)
In 2015-2016 we hosted a series of Sacred Conversations on Race (+ Action), modeled on a program developed by a sister organization in St. Louis in response to the Ferguson events. Sacred Conversations on Race (+ Action) was designed to support congregations as they broach the difficult but necessary conversations centered on racial tensions to lead to better informed and more self-aware leaders.
---
Race and Power Summit
The Race and Power Summit was held in September 2015 to highlight the work of the issue task forces as it relates to structural racism and poverty.